I brought up that exact same issue in Mnišek... :/
Even if bridge is correctly configured, even in devbranch destroyed ones only sink into ground for a few meters... and remain there. See the pic.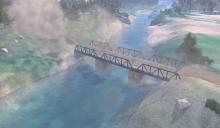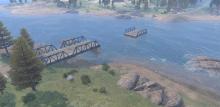 kinda works in dev, yeah :) much better! One section still didn't pulverize into the ground, but better.
Still no solution. Even ponds from A2 are not working in A3 anymore. I'll probably remove lakes from my A2-A3 conversion maps and put a sign there "There is supposed to be a pond here, but not available in A3." ;)
Besides: I'm not keen of lowering my real-life terrain data to get rivers on height:0meters. It is too much work especially on mountainous terrain where rivers flow "down" =)
You crash into one of invisible LODs, quad on the picture is smashed due to invisible rock ;)